You have your job interview scheduled—congratulations! Now it's time to prepare, and we've got you covered. Below, we provide an overview of how to succeed in an interview along with a detailed discussion surrounding each point.
Advance Planning
Take the time to prepare for your interview in advance. In most cases, everything will go smoothly, but it will be less stressful if you practice in advance.
* Do a trial run a day or two before the interview.
* Check your webcam and any headset or microphone as if you were going to do the actual interview. You can use the same video technology that you'll be using during the actual interview which you can find in the section below in our Rehearsal Room. That way, you won't have any last-minute installation issues or password problems right before your interview.
* Your camera should be at eye level (not above or below). A poorly placed camera can result in unflattering double chins or weird shadows. Check to make sure your sound equipment works properly.
* Regardless of location, make sure that you send any materials (resume, portfolio, etc.) that the recruiter needs in advance.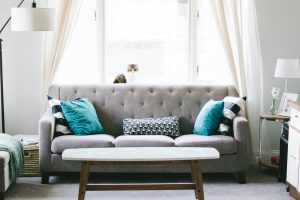 Check Your Background
During your test run, take a look at the background that shows up in the video. Does it look cluttered or distracting?
Plan to have your background be tidy and well illuminated. A plain wall is ideal, or an office-like setting.
What to Wear
Wear the same attire that you would use for an in-person interview.
The camera angle should show you from the waist up because your face is the real focal point. But if there is any possibility you will need to stand up, make sure your pants or skirt is professional. You don't want to be the person whose inappropriate interview attire gets noticed.
During the Video Interview
Make sure the table and your surroundings are clean and neat. You don't want to distract the interviewer. If you're interviewing in your home, make sure that you are in a quiet space with no barking dogs, children, music, or other sounds.
As well, turn off your phone and any alerts on your computer to avoid getting thrown off by emails or instant messages during the interview. The microphone will pick up any noise in the room, so don't tap your pen or shuffle papers.
Make eye contact, and remember, that means looking at the camera (and not the picture-in-picture image of yourself).
Use the same good posture you would use during an in-person interview. Avoid making a lot of hand gestures—even with a great Internet connection, there can be lag time, and hand gestures can stutter on the screen.
Rehearse to sound natural.
It sounds counter-intuitive, but if you practice, you will actually be able to sound more natural. A common mistake in video interviewing is the urge to read your answers — and while you 100% should write down answers to the common questions and have your notes handy (After all, the interviewers cannot see what's out of the screen! Use all the notes!), you do not want to sound robotic or break eye-contact frequently to read a script. Instead, practice your talking points so they come to you naturally.
Practice is essential for any type of interview. Even 30 minutes of practice can make you feel more comfortable and in control.